People from all over the the world visit Bali every year and they often ask: Is there Zumba® in Bali? If you have found this page  you are probably asking that question yourself.
Why ask that question? The reason is that Zumba® is known all over the world and you are likely one of the millions attending classes every week. So, naturally, you want your Zumba® hit even when you are on vacation.
The short answer to the question is: Yes, there is Zumba® in Bali provided by HESTIBELL™.
On this Page
On this Page we will be covering:
About HESTIBELL™
About HESTIBELL™ Zumba® in Bali
Where is Zumba® in Bali?
When is Zumba® in Bali?
Who is Zumba® in Bali for?
What is the Cost of Zumba® in Bali? 
How do You Attend/Book?
A Special Vacation Experience
If you are a Zin™
Private Classes
HESTIBELL™ Crew
HESTIBELL™ Instructors
About HESTIBELL™
Hesti created HESTIBELL™ in 2015 to further the Purpose: Making the World Healthier and Happier. You can read about HESTIBELL™ on HOME.
Hesti herself is vivacious and gregarious with an amazing life story. You can read about her on ABOUT HESTI. She personally attends many of the Bali Classes.
About HESTIBELL™ Zumba® in Bali
When people are vacationing or travelling most are not comfortable going to local gyms where the environment is unfamiliar and the language can be a barrier … and often such gyms can also be difficult to find. Usually gyms require memberships, which are a little complex (and can be expensive). You may have consider some of these things yourself.
HESTIBELL™ in Bali does not operate at gyms or recreation centres or similar locations. Instead we have partnered with some of the most Iconic Malls. That means it is easy for you to find Classes and be in a comfortable environment. Some of our typical Malls are listed in the Section below.
Zumba® is more "language neutral" than some forms of exercise, so whether you speak Bahasa or English or Japanese or whatever .. it is "No Problem"! 
And finally HESTIBELL™ is based on creating Communities so you will experience a very welcoming environment.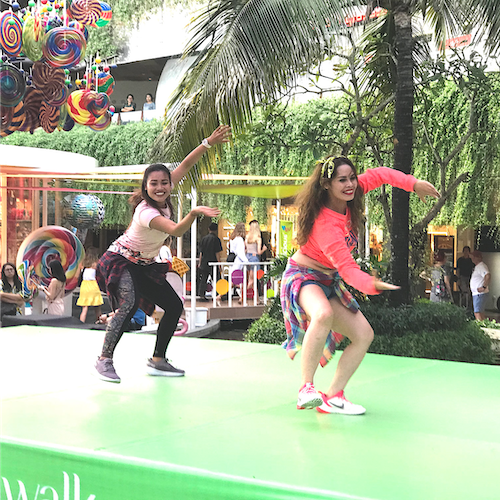 Where is Zumba® in Bali (Location Partners)?
As we mentioned above, HESTIBELL™ Zumba® in Bali is Mall Based. We use multiple locations and these include: 
Check with us before attending as not all locations are used all of the time. Some are for Regular Classes, others for Special Classes and others for Parties.
When is Zumba® in Bali?
You can attend Regular Classes everyday, Monday to Friday including Public Holidays. Times may vary slightly according to religious observances. There are no Classes on the Day of Silence and Idul Fitri.
You may also want to attend one of our ad hoc Special Classes or Zumba® Parties. Our Party Of The Year is a "must attend" Zumba® Party held at the end of each year … ask us for details.
Check on Class Times, Special Classes or Parties using Contact or Whatsapp +62 818 0330 0818.
Who is Zumba® in Bali for? 
HESTIBELL™ Zumba in Bali is intended for EVERYONE. So, whether you are a local Balinese or from elsewhere in Indonesia or an expat living in Bali or an international visitor EVERYONE is welcome. Most of our crew have a knowledge of English .. but one of Zumba's® advantageous is that is is non language based.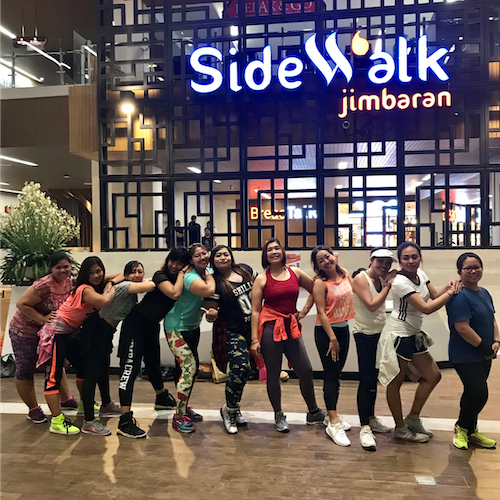 How much does it Cost? 
A pillar of fulfilling the HESTIBELL™ Purpose is Community. Everyone in a community should be equal … so the cost of HESTIBELL™ classes is the same for everyone. For 2019/20 this is only Rp 20,000. You only pay when you attend. There is no need to buy blocks of classes or memberships. And HestBell™ does have Membership but it is FREE … you will get your MemberCard when you attend you first Class. 
How do you Attend/Book?
There is no need for you to book. Just arrive in sufficient time to get yourself registered with the HESTIBELL™ Crew and get yourself prepared. The earlier you arrive the closer you will be to the stage and the Zin™. 
Just check with us for times and locations using Contact or Whatsapp +62 818 0330 0818.
Special Vacation Experience
If you are an International Visitor to Bali, attending HESTIBELL™ Zumba® gives you a unique experience for your vacation. It is more than just "Zumba®" but a multicultural event with the Zin™ being either a local or from another part of Indonesia. You will also being doing the Class with other Zumba® Lovers from diverse backgrounds and cultures.  
What if I am a Zin™?
Indonesian Immigration Law restricts activities under a Visitors Visa. If you are currently a licensed Zin™ and would like an "On-Stage" experience just contact us 24 hours before the Class and we can arrange for you to be a "shadow" on-stage.
You will need to pay a nominal fee of Rp 50,000 so that we are complying with your Visitors Visa and providing you with an "activity".  
HESTIBELL™ Private Classes
For those of you that are staying in villas or similar situations, HESTIBELL™ can provide private Zumba® Sessions (or Yoga Sessions). Just contact us with your requirements so that we can work out a schedule for you. 
HESTIBELL™ Instructors.
We use experienced, qualified, licensed Instructors for Zumba® in Bali. And that is not all … while experience and skill is important, so is "attitude".
HESTIBELL™ Instructors: Are our "partners", aligned with our Purpose and are Customer/Member focused and responsive.
As "partners", they are easy to work with and have a skill level that delivers a good "work-out" .. "skill" includes the ability to relate to Customer/Member needs.
From time to time we use less experienced Instructors who are aligned with us and who we can help "grow".
HESTIBELL™ Crew
Ita. An experienced marketing and customer service professional. She loves relating to people. She has great Zumba® rhythm and joins in some of the Classes too.
Sari. Her background is in administration and she is great at organising. Sari loves dealing with people and her favourite part of the Class is relating to people.  
A final word
Check with HESTIBELL™ before attending a Class so that you have the correct location and time. You can also ask any other questions you might have. Use the Contact form or Whatsapp +62 818 0330 0818.
See you at Zumba® in Bali!